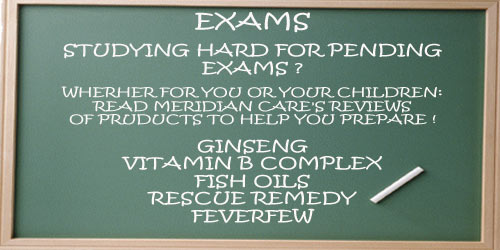 Study & Exam Preperation
Exams are rapidly approaching so we have prepared some information to shed a little light on a few herbal remedies which may help you or your children cope with this dificult period in time.
The main worries people have at this time are that they cannot concentrate fully,they find themselves lacking energy despite eating and sleeping well,insomnia or disrupted sleep,anxiety regarding the pending exams,headaches or migraines and/or they find stress is an unwanted factor at this time.
Below is a list of remedies and a brief description on how they may help the situation.



GINSENG is a herbal remedy used worldwide to assist concentration.It also boosts energy levels in the body and is an aid to reducing stress levels.Very usefull aid to those studying as it is a multi-purpose vitamin which can help many aspects of difficulty experienced by students.It can be used in many forms from tincture drops to capsules or tablets,the most popular form of the vitamin.






VITAMIN B COMPLEX is a very usefull vitamin with wide and varied uses.For the purpose of this piece we will mention its ability to greatly reduce and assist us with coping with stress levels in the body and enabling us to cope and perform to our optimum levels.Students worldwide and at whatever level concur that stress is probably the most commonly experienced problem relating to their studies.Therefore anything which can help them cope with their situation is going to be a welcome addition to their study program.






RESCUE REMEDY is a well known remedy from the Bach Institute.It is a very effective and safe means of dealing with stressfull situations.Simply take drops on the tongue or use the new spray onto the tongue.Non addictive and does not react to chemical medicines so as a course we can all try without worry.This remedy and also Bach Flower Remedies in general are discussed further in our section on Bach Remedies in our FAQ section,or simply click the pic opposite to bring you there.






FISH OILS such as Omega 3's or combination oils such as Udos Choice works to increase mental functioning.Aiding and improoving mental alertness and concentration.Very good for the body in general but esspecially at times of study or examination.Thankfully through time these oils have developed to become much more user friendly.Many may recall with dread the terrible spoonfull of the most vile tasting liquid on a spoon from mammy.Now these wonderfull oils can be taken in capsule,tablet and much more palitable liquids even flavoured for the most choosy of palates.Instead of pulling your hair out trying to study,fish oils also improove the general condition of your hair,skin,nails and teeth.




FEVERFEW is a herbal remedy which is a very effective combitant to general headaches and also migraines.Both of which can be very prevelant during study times and the build up of anxiety in anticipation of pending exams. Reduction in caffine and chocolate intake will help here too but for those who suffer regardless of their eating habbits this is a very welcome alternative to chemical painkillers which may or may not work but definately do lead to a higher tolerance of these drugs and can also lead to addictions.